The ERC is a universally designed, transit–oriented campus located at the Ashby BART Station in Berkeley, California. The 80,000 sq. ft. project incorporates exhibition space, community meeting rooms, a child development center, fitness center, offices for non–profit organizations and vocational training facilities. The building integrates sophisticated design responses to the issues of universal design and environmentally sustainable development.
What is Universal Design?
The intent of Universal Design is to simplify life for everyone by making products, communications, and the built environment more usable by as many people as possible at little or no extra cost. Universal Design benefits people of all ages and abilities.
–North Carolina State Center for Universal Design
Universal Design Welcomes Everyone
A helical ramp winds upward to the second floor, permitting easy access and safe evacuation.
Accessible elevators, automatic doors, and wide corridors create easy circulation.
Restrooms accommodate all ability levels and include private rooms for assisted individuals.
Specially designed signage and way–finding devices guide people who are blind or have low vision.
Hands–free sensors and timers control lighting, acoustical, and security systems
Transit Oriented Design
Transit–Oriented Development Connecting the Ed Roberts Campus to the World
The ERC is located at Berkeley's Ashby Bay Area Rapid Transit Station. It connects BART riders to the San Francisco and Oakland International Airports and Alameda–Contra Costa Transit District buses, as well as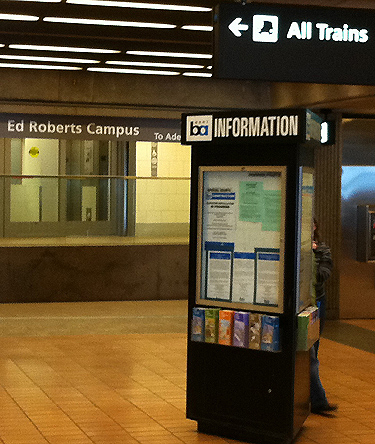 to taxi and paratransit services. This multi–modal transit orientation provides unprecedented access to organizations, activities, and services, and to knowledge and expertise, for visitors who arrive from across the Bay, across the country, and across the ocean.
Transit users and neighbors find the Campus designed for their comfort and safety, with a public plaza, built–in bus shelter with a universally designed transit information system, secure bike lockers, and lighting, landscaping, crosswalks, and signage designed to maximize access & safety for pedestrians, wheelchair users & cyclists.
Green Design
The Ed Roberts Campus is green, providing a safe, clean environment:
Natural ventilation and non–toxic materials foster healthy indoor air quality.
Abundant, glare–free interior daylight enhance visibility and reduce energy.
Energy–efficient building systems reduce energy consumption by over 50%.
Roof–top photovoltaic systems reduce external energy use and lower costs.
Although the ERC did not seek formal LEED certification due to cost, the building meets LEED Gold requirements. (LEED is an internationally recognized green building certification system that has standards for Sustainable Sites, Water Efficiency, Energy and Atmosphere, Materials and Resources, and Indoor Environmental Quality.)
Sustainable components include exterior shading, natural ventilation, energy–efficient mechanical and lighting systems, and the use of recycled, sustainably harvested, and rapidly renewable materials. ERC emphasizes natural light from the large windows surrounding the building and the circular skylight in the lobby. Shading devices control both glare and heat. Using recycled building materials is a sustainable practice that can be seen in many places. For example, the vertical guardrails of the central ramp are covered with a deep Indian–red resin made from recycled milk cartons. Bulletin boards are made from 53% post industrial recycled content. Carpets include 39% recycled content. Marmoleum flooring used in bathrooms is made from natural raw materials including linseed oil (from flax seeds), and ecologically–friendly pigments that contain no heavy metals such as lead or cadmium, and was.installed with solvent free adhesives. Furniture is Forest Stewardship Council-certified to come from well-managed forests, controlled sources, and recycled wood or fiber.
ERC and Multiple Chemical Sensitivities
ERC was designed, and is maintained with, an awareness of the issues faced by those with MCS but the need to comply with building codes or other standards has not allowed the ERC to meet the needs of all individuals. It is our hope that providing information on the systems, products, and policies of the ERC will help individuals determine their ability to tolerate the building.
Air Quality
According to the final LEED IAQ report for the Ed Roberts Campus, "Based on air samples and measurements collected within the subject area on February 11, 2011, the criteria for LEED EQ outlined in the Green Building Rating System for Commercial Interiors has been met." This was before the offices were fully occupied but with furniture. Carbon Monoxide was undetected in 4 of 5 test sites and was well below the 9 parts per million standard in the one site where it was detected. Total Volatile Organic Compounds were well below the LEED criteria. Particulates and Formaldehyde were detected at less than half the concentrations specified by LEED. No 4-Phenylcyclohexane was detected. You can review the Indoor Air Quality Evaluation (PDF).
Ventilation Systems
The ERC heating, ventilation, and air conditioning system works through constant pressurization and air exchange. On the roof there are five large air handlers that run nonstop, taking in outside air. This air passes through dual HEPA filters and is then passed over heated or cooled water pipes to produce air at around 74 degrees. When it's cold outside the water is heated using automatic boilers. When it is hot, the water is cooled with forced air over water cooling towers. The tempered air that is produced is then piped into the space above the tenant suite ceilings (the plenum space). From there, the air is taken in by any of the 58 heat pumps that are spread throughout the building. These heat pumps pass the air through another HEPA filter and again over heated or cooled pipes depending on what is needed. This produces the heated or cooled air that is discharged into the space through a vent. Each vent is paired with a register that takes air back up into the plenum space where it is taken back up to the roof via 3 large general exhaust fans completing the air transfer cycle. Individual offices may have operable windows for fresh air, as well.
Construction Materials and Furniture
ERC building materials and furnishings were selected to meet LEED air quality standards, including the linoleum, carpet, glues, paint, and furnishings. Most products have been certified by a third party such as furniture that meets Indoor AdvantagecM Gold certification standards from Scientific Certification Systems. Carpet was installed in most offices prior to August of 2010 and were cleaned before move–in. The carpet used came from SHAW and passes the CRI Green Label Plus certification. CRI Green Label Plus is the highest standard for the Carpet and Rug Industry, the LEED standard and the referenced standard in the US Access Board/NIBS IEQ Project Report. Benjamin Moore Zero VOC paints were used.
Product descriptions and safety data sheets:
Cleaning Products
DFS Commercial's Green division provides cleaning for all business interiors including carpet, hard flooring surfaces, furniture & panel systems, etc., and employs an in-house LEED Accredited professionals to ensure compliance with all Green standards. Crystal Dry Carpet Cleaning Agent and Crystal Extract Encapsulating Pre-Spray are used on the carpets.Green Solutions window cleaner, disinfectant, and all purpose cleaners are used in the building. Tenants are provided with a list of allowable cleaning products that conform with LEED standards.
Landscaping
Terracare is the ERC outdoor landscape maintenance firm and has agreed not to use herbicides. Trees surrounding the ERC include three species that were present prior to development.
Pinus pinea – Italian Stone Pine
Populus fremontii – Cottonwood
Sequoia sempervirens – Coast Redwood
Additional trees were selected by MIG, in consultation with the City of Berkeley (City Arborist) and took into consideration BART design guidelines and City of Berkeley Design Review Committee recommendations.
Fraxinus oxycarpa 'Raywoodi' – Raywood Ash (Adeline Street)
Quercus coccinea – Scarlet Oak (Woolsey Street)
Tristaniopsis laurina – Swamp Myrtle (Tremont Street)
Cercis canadensis – Eastern Redbud (in planters on Adeline Street)
Acer palmatum 'Bloodgood' – Bloodgood Japanese Maple
Cercis occidentatlis – Western Redbud
Pistacia chinensis – Chinese Pistache
Plants were selected that would thrive with a minimal amount of water and announce the seasons with flowers, such as Redbuds, foliage colors in various seasons, such as Scarlet Oak and Chinese Pistache for brilliant fall colors and Japanese Maple variety 'Bloodgood' with deep red foliage to provide contrast to the Redwoods and Italian Stone Pines that were existing. Shrubs and groundcover were also guided with similar criteria and consists of climatically appropriate native and non-native plants. MIG also chose non-toxic plants for the ERC campus planting. Untreated cedar mulch is found especially along Woolsey Street.
Pest Control
Ecolab is using Terro to control ants at the ERC. According to the manufacturer's website on Terro: "The inert ingredients are sweet food-based products similar to pancake syrup. The active ingredient is Borax. Borax is a natural mineral that is found in many consumer products and has been used safely by homeowners for years."
Fragrance–free Workplace Policy
The ERC and tenant agencies are committed to maintaining a scent-free environment. Visitors are asked to refrain from wearing scented products to all events.
Electronic, Electric, and EMF
While the ERC is designed to use as much natural light as possible, florescent lighting had to be installed to meet building code requirements. The ERC also provides WIFI (wireless access) throughout the building. Electronically operated doors are needed to provide access for individuals with disabilities. FM Assisted Listening Devices may be in use in the conference rooms.