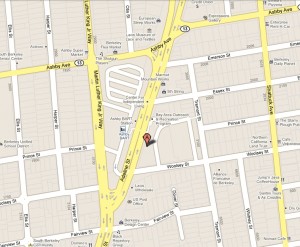 The Ed Roberts Campus (ERC) is located at 3075 Adeline Street, in Berkeley, California, which is south of Ashby Avenue between Tremont and Woolsey Streets.
Public Transit: The ERC is at the Ashby BART Station on the Richmond/Fremont BART line. BART Trip Planner
Bus
In the East Bay: Take AC Transit bus #12 via Martin Luther King Jr. Way, or the #80 bus via Ashby Ave. From San Francisco: Take the F bus from the SF Bus terminal, get off at the Ashby BART stop in front of the the Ed Roberts Campus. 511.org Trip Planner (all transit)
Biking
The ERC is well situated for biking. Adeline Avenue has bike lanes and Berkeley Bicycle Boulevards on Russell and Milvia Streets are nearby and provide safe routes. Both AC Transit and BART accommodate bicycles. Bike racks are provided on the east side of the building and secure bike parking is available for a minimal fee at the Ashby BART station.
Auto
There is limited 2 hour parking in the adjacent neighborhoods. You may park in the Ashby BART parking lot for free after 3pm on weekdays and on weekends.
Commuting Here
ERC has a "transit first" policy designed to reduce emissions and to lessen our impact on neighbors. Employees are encouraged to consider BART, bike, walking and other public transit options.
Additional resources include:
The ERC Tenant listserv is a place to post or find carpooling requests.
Rideshare is a free regional ridesharing agency. You can sign up online. ERC tenants' employees who participate in Rideshare vanpools can use the pretax Commuter Check program to pay Vanpool expenses with pre–tax dollars. You could save as much as $900 each year! Talk to your human resource manager for Community Check options.
Bike riders can find designated bicycle parking in the ERC garage and on the east side of the building. Bicycle costs can also be part of your organizations Commuter Check program.
Guaranteed Ride Home guarantees a ride home when you have to work unscheduled overtime mechanical trouble, or your ride-sharing vehicle is not available. Check with your employer about joining Guaranteed Ride Home
Carsharing: Both City CarShare and Zip Car have cars located in the Ashby BART parking lot. For more information visit their websites.